The Governing Body
Amy was elected as a Parent Governor in December 2018 and as Chair of Governors in March 2022. Prior to that she was the Vice Chair. Amy is also link Governor for EYFS (Foundation) and Writing.
Amy was a secondary school teacher for 13 years and is extremely passionate about education. Amy has experience in teaching Geography and PSHE to 11–18-year-olds. She was also Head of Pastoral Care and gained a Post-Graduate Diploma in Education. Amy is also a Geography subject advisor and examiner for a GCSE exam board, so has a great understanding of the assessment used for our learners across the school system. She has three children across Early Years through to Key Stage 2 so is a past, current and future parent of the school. Amy used to be a pupil at Christchurch Infant School herself!
Amy enjoys exploring the great outdoors, especially the beach and the New Forest, with her husband, three young children and two dogs.
Gerri was elected as Local Authority Governor in April 2019. She became joint Vice Chair of Governors in March 2022. Her link role is for Special Educational Needs & Disabilities (SEND) and Vulnerable Groups.
Gerri has over 30 years' experience in education. She started as a teacher and then deputy head in a large primary school in London. She then moved to Bournemouth as a specialist advisory teacher for SEND, then Manager of the Learning Support Services and then as senior manager for SEND Services, for Dorset Council. She now works as a freelance SEND consultant and trainer, supporting local authorities and schools to meet the needs of children with SEND.
Gerri has two sons at university. In her spare time, she enjoys film and theatre and spending time in the Dorset countryside with her husband Ivor and dog Gracie.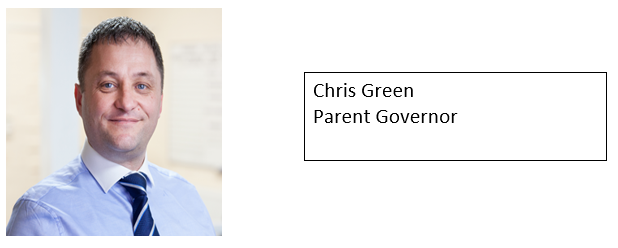 Chris was elected as a Parent Governor in November 2018. He was Chair of Governors between September 19 and December 21, returning to link governor for finance.
Chris is a senior manager working in the construction industry and has experience in building maintenance / refurbishment, finance, HR procedures and health & safety.
He has twin daughters that have been through Christchurch Infant School and are currently in the Junior school. he enjoys walking, climbing, abseiling and kayaking.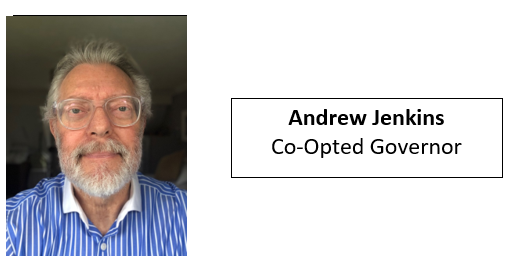 Andrew was elected as a Co-Opted Governor in 2021. His link role is for Health and Safety.
Andrew is a semi-retired Chartered Surveyor. He has worked for over 40 years for a variety of property companies and with BT for the majority of his working life, dealing mostly with commercial buildings of all types. He has learned a lot about the psychology of the occupation of the built environment, building technology, staff management, construction of business cases and financial analysts as well as project management and procurement.
After 15 years in London, Andrew and his family moved to St Leonards to be closer to his wife's ageing parents.
Andrew has supported two children through the education system including nursery, independent and state secondary schools, university and apprenticeships.
Andrew enjoys most sports from the comfort of his living room, but skis, keeps fit and and rides his motorcycle when the weather is conducive.
Nicki was elected as Staff Governor in September 2019. Her link role is for 'Personal Development' of the school, linking in with members of staff who are responsible for leading PSHE (Personal, Social and Health Education) and the School Council.
Nicki has been at the school since 1995, starting as a newly qualified teacher and is still here over 25 years and six headteachers later! She has enjoyed being Base Leader in the Early Years for over 15 years and as part of this role, became an Early Years Foundation Stage Moderator, supporting other schools across Dorset with their national assessments. She is now enjoying her role in Year 1, and all the new challenges that brings. Nicki's passion is for music within the school, and she leads whole year group 'Singalongs' and whole school performances in our annual Arts Week.
In her spare time, she especially enjoys music outside school and is a member of two adult choirs, performing across Dorset and beyond. She is also proud to be a member of the school netball team, go go Pterosaurs!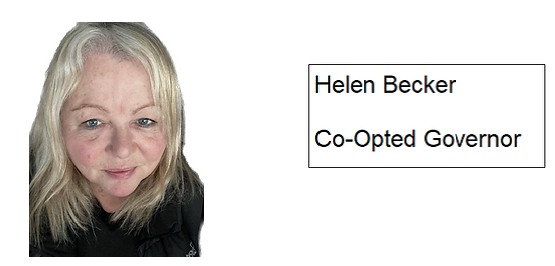 Helen Becker
Helen was elected as a Co-Opted Governor in January 2023. She is the SEND link for the school.
Helen is mum to three wonderful children. She has a love of learning and believes 'every day is a school day'. Her teaching career began in Glasgow over 30 years ago and since then she has lived and worked in Paris, Bournemouth and Denmark. She has worked as a Head Teacher, School Improvement advisor and is a specialist in assessing specific learning difficulties. She is currently Head of Service for SEND in BCP.
Helen enjoys being with her family, living by the sea, learning languages, walking her 13-year-old daschund and shopping in Aldi for bread and leaving with a 30litre water butt!
Adnan Azim
Adnan was elected as a Co-opted Governor in October 2022. His link role is maths.
Adnan is a respiratory physician working in clinical research at the University of Southampton and R&D at AstraZeneca. He has experience in data analytics, project management and teaching. He was motivated to become a governor in order to support the local community.
In his spare time, Adnan enjoys cooking, travelling and exploring the outdoors especially with his wife and two young children.
The full governing body meets on a regular basis of at least six times per year. In December 2019 we changed our governing body from two sub-committees based on the areas of interest and expertise of the members and instead will meet as a Full Governing Body going forward. These committees were 'Learning and Curriculum' and 'Finance and Premises'. The new format of meeting as a Full Governing Body will allow greater knowledge sharing and speed of decision making going forward.
All members of the governing body attend training sessions to keep us up to date with changes in schools and education, and to help us do our job effectively. We also go into school to meet with the Headteacher, other members of staff, and pupils, to help us find out how the school is progressing towards its targets.
​
Our Governors come from a range of backgrounds, and bring different areas of expertise to the school.
​​
A Governor's role is to support and challenge the senior staff to continue to improve the school. It is largely a thinking and questioning role and Governors are not there to manage the school or do the jobs of school staff. Governors fulfill their role by regularly attending Governing Body meetings, providing strategic guidance and by asking probing and challenging questions of leaders within the school. They also undertake visits, serve on relevant committees and oversee the Headteacher's performance management.
As a governing body we are proud of all the staff, pupils and parents of Christchurch Infant School and all that they achieve. We are committed to supporting Christchurch Infant School to be a safe, enjoyable and effective place for children to learn and develop.
The Chair of the Governing Body, may be contacted via the Clerk to the Governing Body. Email: jthorne@christchurchinf.dorset.sch.uk
Governor Information
Further governor information including registered business interest can be found in these documents:
​
​